Indulge in the largest selection of Whiskys in the World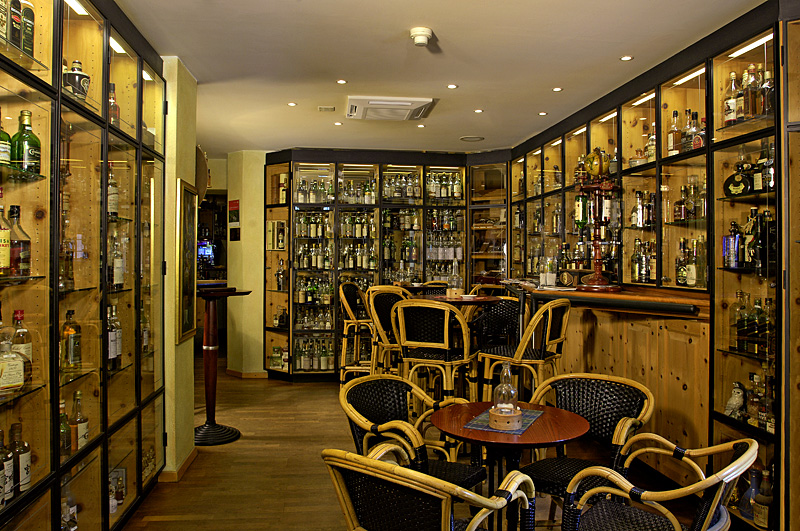 Indulge in the largest selection of Whiskys in the World
Devil's Place, as the Waldhaus am see's exclusive whisky bar is called, makes the heart of every whisky lover beat faster! With 2,500 different kinds of whisky, this is the largest selection in the world. Several times, Devil's Place has received an entry in the "Guinness Book of World Records" for its outstanding whisky collection. In our own online whisky shop and in our in-house shop "World of Whisky", we offer over 1,000 different whiskys.
Devil's Place is not only for our hotel guests, it is open to the public all year round until 00:30 o'clock. In the smokers' room, right next door, you can treat yourself to a cigar from our very large selection within our walk-in humidor. The room is surrounded by whisky cases–an experience for every whisky-lover! How about enjoying a fine cigar with a matching whisky? Ask us, we will be happy to set you up!
How it came to be…
Claudio Bernasconi's passion to collect whisky began 22 years ago. First he learned, as a young man in India, to understand the advantages of whisky as a means of hygiene, for brushing his teeth. The idea of opening the world's largest whisky bar came later, when one of his guests spoke of a bar in Holland having 100 different whiskys. After much work and some setbacks Mr. Bernasconi succeeded, with the assistance of guests, relatives and friends, to receive the first entry in the 'Guinness Book of Records' in 1996, with 1000 different bottles of whisky. In 1999, the second 'Guinness Book of Records' entry followed, with over 2,500 bottles of whisky.
The "Devil's Place" Whisky Bar is now a Mecca for whisky lovers from around the world. The selections include mainly Scottish single malt whiskeys, but also a wide selection of blended, Irish whisky and bourbon, and other grain spirits from around the world.