Gourmet tour Hauz Khas Village- Weather you live in India or visiting, you can not NOT fall in love with Hauz Khas Village. It is an amazing little corner of Delhi, which seems frozen in time! It offers a perfect blend of modern with the traditional, with brilliant eating joints, to galleries and stores full of little souvenirs from the bygone era to the swanky stores offering designer clothes, silver jewellery, old Hindi or English movie posters, hand made gift wrapping paper etc. One can not avoid taking a stroll around the small water body next to the Hauz Khas Village with a very beautiful scenic view of the mosque and the tomb.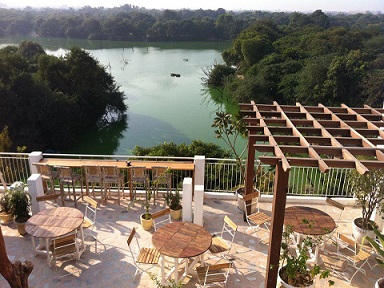 We can help you plan your gourmet tour in Hauz Khas Village. Its a great place to eat, shop or just hang out with friends. The small and mysterious alleys could look very intriguing to the first timers. The place is rustic as well as urbane which gives the feel of quaint old markets of Europe, but not quite. The best part is that in it's rather small village-complex it houses some of the best known iconic food-joints/pubs/bars of Delhi. Almost whole lane is full of restaurants serving different varieties of food, from South Indian to Rastafari themed bars, Health Food, Contemporary Latin, an English Bakery, North Eastern, cosy cafes and the usual Italian/Asian/American Khichdi.
Hauz Khas Village is full of unending surprises. Everyone's got their favorite places and since the place caters to everyone from 50 to 15 years old, you can find a place to suit everyone. If it's High Tea, go to Elma's. Chettinad food to be found at Gunpowder. Yeti for spicy, wonderful mountain food. OTB, Grey Goose, Imperfecto, Phat Ninja etc for happy hours with real alcohol inside the drinks, TLR for music, Golconda Bowl for the Hyderbadi cuisine etc. Lots of choices here to keep everyone happy. .