Khajuraho
Khajuraho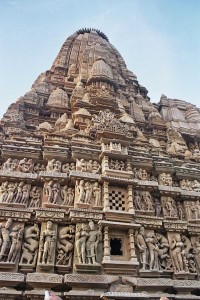 Khajuraho, the town of temples more famously known across the world as the town with temples that have erotic sculptures on them. Whichever way you look at it Kahjuraho is a place that should be on everybody's wish list. A quaint little town that feels like it has a total area of about 5 square kilometres, which isn't true of course but there is so much packed into one town that one doesn't really feel the sense of distances.
An overnight train takes you to Khajuraho from New Delhi. It leaves in the evening and before you can say, "Hello sunshine", you are there at the crack of dawn. A flight takes around 2 and a half hours. Once in Khajuraho there is a lot to do. Visiting the Khajuraho temples is and should be on the top of everyone's list. The Western group of temples should be the first to be hit. It is the largest complex and you can get an audio tour that will give you detailed descriptions of all the temples in the group. You can also hire a guide who might be able to give you juicier details about the temples.
Be adventurous and hire a cycle to get around the town. They can be hired out for a day on absolutely nominal prices and give you a better perspective on the town and its people. Stop by and talk to the craftsmen on the roads. You can find them everywhere. They are an interesting bunch with interesting stories of their own.
In the evenings watch the light and sound show it is absolutely amazing. Or if you are one you likes a quiet evening sit by the lake with a book. You might never know who might strike up a conversation. Do remember to take loads of mosquito repellent!