Sahyadris
Sahyadris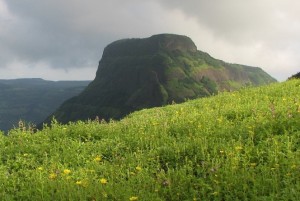 The Western Ghats or the Sahyadris as they are colloquially called start at the border of Gujrat and Maharashtra and continue right down to Kanyakumari, the tip of India. The Sahyadris are the perfect place to trek for all categories of people. There are trails that can be good training grounds for those uninitiated into trekking as well as tough treks for those who are proficient.
The place to go for these treks are from Mumbai as a lot of the locals are passionate about trekking and do it a lot over the weekends. The trekking trails offer not just a good hike but also spectacular views. There are hundreds of waterfalls in the range that are characteristic of the place. Those that are avid trekkers can attempt to rappel down these. This again is a popular sport in the area.
The trails are surrounded by forests and the range is a biodiversity hotspot and has nearly 6000 animal and plant species of which over 300 are threatened species. The flora and fauna in the area thus is an added bonus on your trek.
The other advantage is that unlike the Himalayan range that in most cases requires some sort of high altitude experience in the Sahyadris none is required as it is not that far above the sea level. It is also an ideal place for rock climbing enthusiasts.
So don't wait for a longish holiday. Pack a day back and head off for one of the best trekking trails in the country.