Varanasi
Varanasi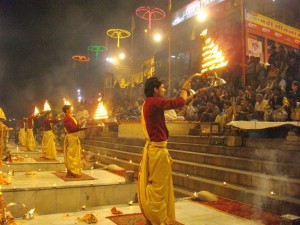 Varanasi one of the holiest of holy cities in India is known by many names, Banaras and Kashi being two of them. It is a 10 hour train ride from Delhi and about 2 hours by flight. It is a town out of our myths and legends, a town that has survived the trials and tribulations of the centuries like no other. In fact it is known to be the oldest continuously inhabited city in the world. It is also considered to be the oldest city in India.
Our legends say that Banaras was founded by Lord Shiva and that anyone who dies in here receives salvation or go straight to suwarg (heaven). Varanasi is not only a holy city it is also a city that has seen the centuries come and go. It has seen kings rise and kingdoms fall. It has seen the infancy of the Indian culture and has seen it rise and it will continue to see where this country will go. It is the custodian of our culture, history and heritage.
Whatever your reason to be here religious or otherwise the city of Varanasi will not disappoint. Hindus and Jains come from all over the country and many from abroad to pay homage at the banks of the Ganga at Varanasi. There is also the matter of the Banarasi sari that draws many women (whether or not they admit to the reasons), considered to be one of the best weaves of the silk sari in India.
So come to pray, come to shop, come to sightsee but come to Varanasi, there is awe in this city.