Popular destination of the month
Kashmir- A Jannat on earth!

Kashmir- A Jannat (Heaven) on earth! The Mughal Emperors addressed it as 'Jannat'. No Hindi film song in 60s & 70s were considered complet without this location. And every Indian is enchanted by the sheer thought. Such is Kashmir!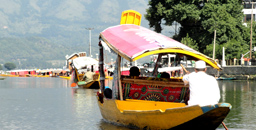 Srinagar- A paradise that holds in itself, the love and glory of many a Emperors, Multi-faceted culture and holy places that represent all communities. All, amidst its deep-green rice fields, river bridges & houseboat-rimmed lakes.
Mughal Gardens- Laid out 400 years ago by Emperor Jehangir for his wife. Shalimar Gardens are the piece de resistance of Srinagar's many gardens & parks. While Nishat Bagh that descends in tires to Dal Lake's edge is known for its stately Chinar trees imported to Kashmir from distant Persia by the Mughals.
Carpet Weaving Factory- Kashmiri carpets are world renowned as they are hand made and always knotted, never tufted. It is extremely instructive to watch these being created.
Dal Lake- Srinagar's beauty spot- Dal, houses many houseboats. Not to mention people who trace their descent from Noah. Their families, tradition and culture, bequeatehed to them by their ancestors is a journey in itself.
Sonamarg – Derived from 'Son' meaning golden, represented by the bloom of yellow crocuses that fill this valley in spring, Sonamarg is marked with a river gushing down snowy heights, dense woods of fir & silver birches, glaciers et al.
Gulmarg – First comes the amazing willow with criket bats….Little further down, the apricot farm..Then the appple orchard..Then snow-clad mountains….. And no. This is not a dream but Gulmarg. A Hill station renowned across the planet for excellent excursion opportunities, its Golf course and exhilarating Ski slopes.
Pahalgam – Pahalgam gives you a high like nothing else. The high of pure air gushing….the high of touching the sky……the high of life….This is a point when all thoughts attain clarity after a blank state of mind. A point where one starts melting., merging and eventually, disappearing in to this fairyscape.
Besides Pahalgam is the starting point of the holy Amarnath yatra. It has lots of adventurous activities like trekking, skiing, mountaineering and camping.