Thailand


Thailand is a wondrous kingdom, featuring Buddhist temples, exotic wildlife, and spectacular islands. Along with a fascinating history and a unique culture that includes delectable Thai food and massage, Thailand features a modern capital city, and friendly people who epitomize Thailand's "land of smiles" reputation. The main marketing slogan for promoting Thailand internationally was "Amazing Thailand", but, in reaction to the 2009 tourism crisis, it was relaunched as"Amazing Thailand, Amazing Value".
By contrast, the main marketing slogan for promoting Thai tourism to the Thai is Unseen in Thailand. Thailand offers a great variety of attractions. These include diving sites, sandy beaches, hundreds of tropical islands, varied night-life, archaeological sites, museums,hill tribes, exceptional flora and bird life, palaces, a huge amount of Buddhist temples and several World Heritage sites. Many tourists follow courses during their stay in Thailand. Popular are classes in Thai cooking, Buddhism and traditional Thai massage. Thai cuisine has become deservedly famous worldwide with its enthusiastic use of fresh herbs and spices.
From an inexpensive plate of delicious Som tam at a simple street stall upcountry to a modern take on Thai cuisine in the gourmet restaurants of Bangkok, it's very difficult not to eat well in Thailand. Only the most austere ascetics can resist shopping when in Thailand. Bangkok is renowned for its main shopping malls down town, offering an astounding variety of international and local brands. In the vicinity of Bangkok one can find several visually stunning floating markets such as the one in Damnoen Saduak. The "Sunday Evening Walking Street Market", held on Rachadamnoen road inside the old city, must be the shopping highlight of a visit to Chiang Mai up in northern Thailand. It attracts many locals as well as foreigners. The "Night Bazaar" is Chiang Mai's more tourist orientated market, sprawling over several city blocks just east of the old city walls towards the river.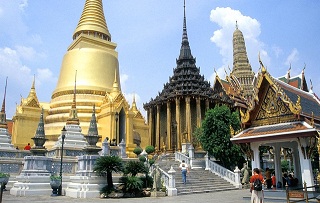 USD 204 per person (twin/triple) – 3 Star Hotels
INCLUSION
02 Night Phuket at Baramee Resortel / Baumanburi (sup) with 2 Breakfasts.
02 Night Pattaya at Bella Express (Std) / Golden Beach (sup) with 2 Breakfasts..
02 Night Bangkok at Royal Ivory / Dream Town (sup) with 2 Breakfasts.
Seat in coach transfer Airport – Phuket Hotel – Apt // Apt – PTY Hotel – BKK Hotel – Apt.
Half Day City tour, SIC basis.
Coral Island tour with lunch SIC basis.
BKK city tour with Gems Gallery visit, before drop for shopping at Indra Market. (only one Temple, ticket cost will pay by clients.)